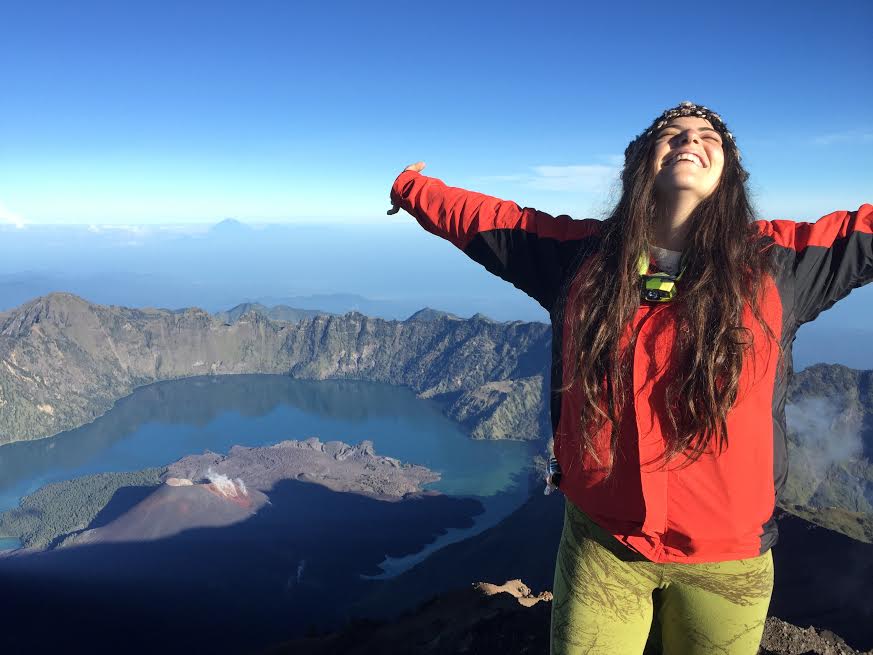 Dear Adventure Pants and Captain Robbo,
It is with a heavy heart that I lay my dear green Trees! adventure pants to rest, after they suffered an unfortunate run-in with a volcano. Though our pants fought bravely, in the end, even their rough and ready nature was no match for the x-treme force of a live volcano.
It all started one day in 2014, when I saw my friend wearing a pair of leggings. "Oh my god," I said. "Where did you get those beautiful leggings?" She told me about you, Adventure Pants, and you,
Captain
Robbo
, and I swiftly found you and bought a pair, identical to hers. This was a little awkward every so often when we ran into each other wearing the same pants, but ultimately it was a good thing. Though my pants were dear, I knew there was nothing in the world quite like my Adventure Pants, besides other pairs of adventure pants, and I was happy.
I wore those green leggings as often as possible, and got frequent positive comments. I always told those who showed interest, where and how to buy their own pair. The more Adventure Pants in the world, the better!
One day, it came time for me to leave my home of 5 years, in Melbourne, and start the slow, lonely journey back home to my native land, in the United States of America. In between, I intended to stop in a few different countries to observe and volunteer at birth clinics, as I am studying to be a midwife.
My first stop was Bali, to work in a clinic called Rumah Sehat Madani in Denpasar. It was slow going, but eventually I pared down all my belongings, collected over 5 jam-packed years, into one little suitcase. Right at home amongst my most beloved things were - you guessed it - my green Trees! Adventure Pants.
In Bali, I developed a healthy interest in climbing volcanoes. And everyone knows that if you're climbing volcanoes, you simply must summit Mt. Rinjani, 3, 726 m of pure volcanic glory. Off I tromped, wearing - of course! my beloved pants of adventure.
Here we are, proud and happy at the top of the world.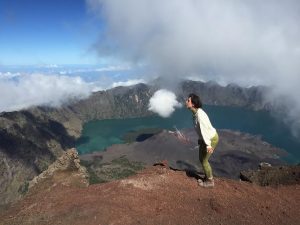 The way down from the summit was rough. Unheeding of danger, I skipped, bounced and slid down the gravelly slope, falling on my bum repeatedly. We stopped on the way to blow a little cloud off the top of a little volcano, nested down all cozy in Rinjani's crater.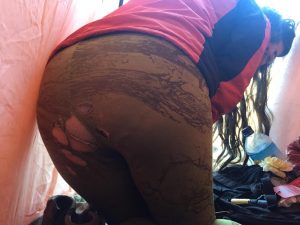 These Adventure Pants were the best companions a girl's hardworking legs could ask for. Unfortunately, when I arrived back at the camp...
Though I had been... ahem! exposed... for the greater part of the hike down, none of my travelling companions had seen fit to tell me the truth, instead preferring to giggle with the locals at my misfortunate bum situation. It was only when I leaned out of the tent, presenting my lacy bum window in all its glory, that my tent-mate couldn't resist, and snapped the above picture to show me what I'd been showing them (not the mention the rest of the world) for the last few hours.
I think they expected me to find it funny, but much to their surprise (but not to yours I'm sure,
Captain
Robbo
) I burst right into tears! I groped at my backside to feel the truth, the reality, the harsh actuality -
 my beloved Pants were shredded!
How could I Adventure now? I'd been so plucky and energetic, but now the thought of the 4 hours of walking still to go made me despair. Me and my Pants, we'd been together so long... I went off into the wilderness with my pants, to grief in solitude.
Well. It took awhile, but eventually I came back to camp. I hardened my resolve, determined not to abandon this Adventure, no matter what.
I made it a point to wear my Pants proudly for the next 2 days - the rest of the hike. Shredded or no, and visible bum be damned. I would never give up on my Pants, because they would never give up on me.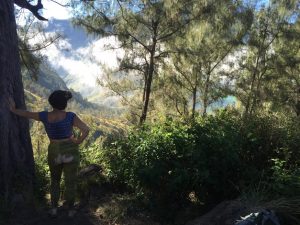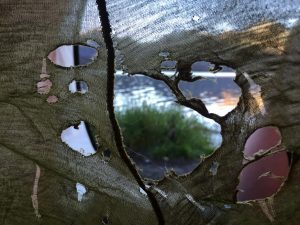 So, having returned now to the relative comfort of the clinic, my Adventure Pants retired now, but still fondly rolled up with the rest of my favorite things, I felt the urge to write to you,
Captain
Robbo
, the only one who could truly understand my bond with Pants. I've had such a beautiful relationship with your creation, and our love affair has ended in a spectacular fashion, and one truly worthy of your Pants.
Thanks for all the beautiful memories 🙂 the comfort, the fashion, and the many compliments over the years.  xo